More awards success for John Lamb Hill Oldridge as Paula wins Lifetime Achievement Award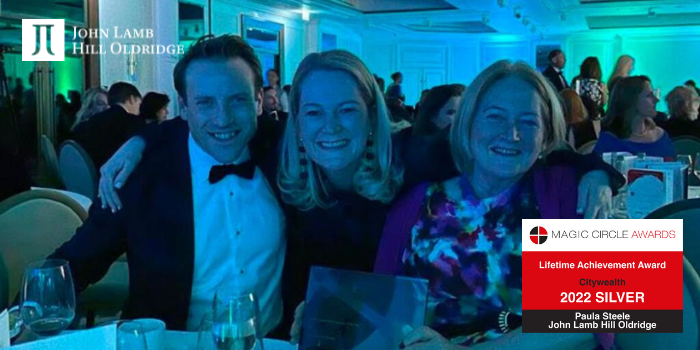 We are excited to announce that our director, Paula Steele, has won a silver Lifetime Achievement Award at the prestigious Citywealth Magic Circle Awards 2022. This is a huge and well-deserved accolade for Paula, who has been with John Lamb Hill Oldridge for 44 years.
As if Paula's award wasn't enough, as a firm we also won the gold award for the Ultra High Net Worth (UHNW) Private Client Services of the Year.
Last but by no means least, Paula has also been nominated for Woman of the Year at the 2022 Professional Adviser Women in Financial Advice awards. The winners will be announced during an evening ceremony on Wednesday 6 July in London.
Read on to learn more about the awards and Paula's enormous contribution to the financial services industry.
About the Magic Circle Awards
The Magic Circle Awards are a keystone of quality for financial services. For 17 years the awards have recognised top professionals from the country's leading firms and showcased the achievements of the industry.
Attended by more than 400 professionals from over 140 financial firms, nominees include leading tax advisers, investment managers, law companies, family offices, and trust organisations.
According to the Magic Circle Awards, the Lifetime Achievement Award was open to: "individuals who have had a significant and consistent positive impact on the private wealth industry over the years, the people they have worked with, as well as their clients."
As well as Paula's individual "lifetime achievement" success, we were also recognised with the top award in the UHNW Private Client Services of the Year. This is testament to the excellent advice and service we provide to all our high net worth (HNW) and UHNW clients.
Paula's professional accolades
Paula has been part of the John Lamb business for 44 years. She is a Chartered financial planner, is Society of Trust and Estate Practitioners (STEP) qualified, and holds the Investment Management Certificate (IMC).
She has been a business owner in the financial services sector since 1978, and is also a founder shareholder in an investment business, Collidr, which currently manages £5 billion of client assets.
Paula is recognised as an industry expert in the HNW and UHNW market, and other leading professionals often approach her for advice with complex cases.
Inheritance Tax planning
Paula's focus is on using life insurance to provide Inheritance Tax planning advice to HNW and UHNW individuals.
With a deep understanding of tax, trusts, cross-border issues and the dynamics of succession and intergenerational wealth transfers, Paula brings unmeasurable value to a client's team.
Paula is also responsible for the development of our junior brokers. She mentors the next generation of advisers, passing down knowledge and connections to improve the future for our clients and our firm.
In addition to helping juniors improve their technical knowledge and client relationship skills, Paula also supports them as they build their professional networks.
Strong client relationships
Perhaps one of Paula's greatest skills is her ability to form and maintain strong client relationships over decades and intergenerationally. She enjoys the challenge of working closely with clients, learning about their unique financial positions and structuring cover appropriately.
Paula is well-known for going the extra mile for her clients and is never afraid to fight their corner to secure the best outcome for them. In addition, clients can trust Paula to give a straight answer to their questions and always act in their best interests.
She regularly engages with insurers to challenge them on their underwriting or administration practices. She acknowledges her resilience that comes from such a long-term specialist career, and that this resilience allows her to push for tangible changes to the industry.
A female and family focus
Largely thanks to Paula's influence, John Lamb Hill Oldridge is committed to maintaining a structure where the senior roles are heavily populated by women. Our current trainees are also 50% female and 50% male. We are a high-performance team, while still retaining a female and family focus.
"I dedicated my professional life to the protection industry and having broken into it at a time when women almost didn't exist," says Paula. "I hope to leave it with women at the helm of my firm."
So, it's gratifying that Paula has also been nominated for the Woman of the Year award in the "protection" category at this year's Women in Financial Advice awards.
Hosted by Professional Adviser, this event aims to showcase the brilliant work done by women across the industry. Winners will be announced on 6 July – we'll let you know how Paula gets on!
Get in touch
To book an appointment with Paula or one of the team, please email [email protected] or call us on 020 7633 2222.
Other Insights
Slavica Smith
"It is important that advisers can approach the whole market" Hazardous pursuits encompass a broad range of high-intensity activities that often involve elements of speed, height, and exposure to challenging environments. Many of these pursuits [...]
Slavica Smith
Research suggests that confusion around life insurance is one of the reasons fewer millennials are buying policies compared to previous generations. Long-winded questionnaires and the possibility of medical screenings add to the complexity. It is [...]
Slavica Smith
At the end of their lives, your clients are likely to want to bestow a significant amount of their wealth and assets to their family. If they have accrued a sizeable estate, their beneficiaries might [...]