JOHN LAMB MERGES WITH HILL OLDRIDGE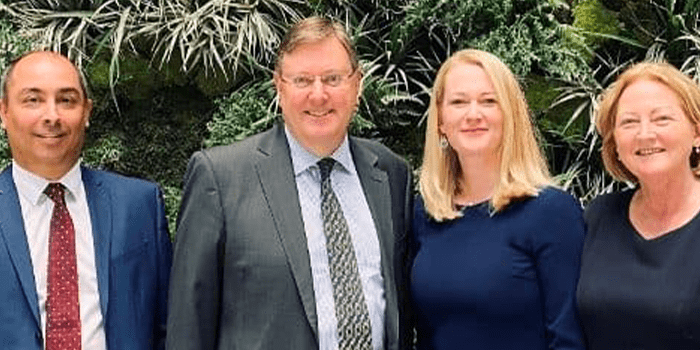 HILL OLDRIDGE JOINS JOHN LAMB CREATING THE UK'S LEADING LANDED ESTATES ADVISER
ADVISER TO OVER 150 OF THE UK'S BIGGEST LANDED ESTATES AND THEIR FAMILIES.
Hill Oldridge, a leading life assurance adviser to families and landed estates including the Astors of Cliveden, has joined John Lamb Financial Solutions ("John Lamb") to create the UK's foremost specialist protection assurance adviser, John Lamb Hill Oldridge.
Founded in 1992, Hill Oldridge acts for more than 150 of the UK's biggest landed estates and their associated families, sourcing and managing complex life assurance placements as part of estate planning arrangements. The company's core expertise lies in placing significant life assurance risks in mitigation of inheritance tax liabilities as part of a client's longer-term succession planning. It is one of the largest UK practices in this specialist field.
John Lamb is a family-run and award-winning specialist advisory firm, established in 1959 to satisfy the growing demand for comprehensive solutions for individuals and businesses ensuring they are able to manage their risks and optimise their asset portfolios. The firm's dedicated team combines specialists in equity release, insurance underwriting and broking.
The merger of the two businesses will enhance John Lamb's already well-established advisory life practice led by one of the industry's leading practitioners, Paula Steele, who has over forty years' experience. Being the UK's leading adviser to landed estates and their families gives John Lamb Hill Oldridge a unique selling point in the market. The merger will introduce new clients and intermediary connections and will enable a broader service offering spanning UK and international capabilities to new and incumbent clients. It also complements John Lamb's position in the equity release market where it is the leading specialist adviser of its kind in the UK.
The management structure of John Lamb Hill Oldridge reflects the collaborative approach of the firm's leading practitioners: David Pollock, who joined Hill Oldridge in 2007, will become Chairman of the enlarged business, Alex Gibson-Watt will be Managing Director and Paula Steele will take over as the firm's broking director.
Paula Steele, Director of John Lamb Hill Oldridge, said: "Landed estates in this country face significant financial pressures and without proper planning their viability and the jobs they create are at risk. With the right advice estates should avoid unnecessarily either having to be sold in their entirety or large portions of land being sold off to pay tax liabilities."
David Pollock, Chairman of John Lamb Hill Oldridge, said: "I have long recognised Paula Steele and the John Lamb team as one of the leading advisers in our specialist market. With over forty years' experience Paula has a breath of contacts and expertise that ideally complements our client base. I am delighted that the Hill Oldridge team are joining such a highly regarded firm who share our values and ethos.  I am confident that our enhanced capabilities will offer great benefits to all our clients."
Other Insights
Slavica Smith
"It is important that advisers can approach the whole market" Hazardous pursuits encompass a broad range of high-intensity activities that often involve elements of speed, height, and exposure to challenging environments. Many of these pursuits [...]
Slavica Smith
Research suggests that confusion around life insurance is one of the reasons fewer millennials are buying policies compared to previous generations. Long-winded questionnaires and the possibility of medical screenings add to the complexity. It is [...]
Slavica Smith
At the end of their lives, your clients are likely to want to bestow a significant amount of their wealth and assets to their family. If they have accrued a sizeable estate, their beneficiaries might [...]