Why we are excited for the Magic Circle Awards and the latest company news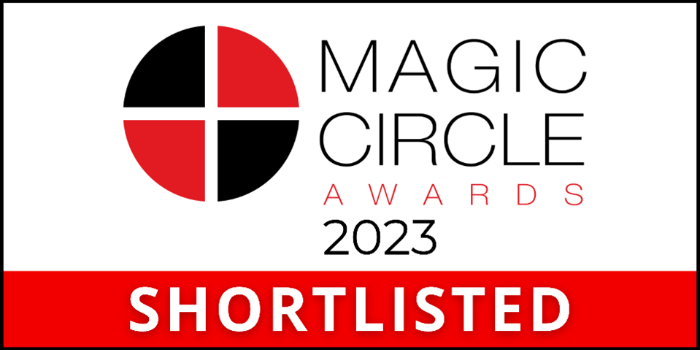 Citywealth magazine's Magic Circle Awards are the leading accolade in the wealth management sector. The 2023 event is due to be held in London on 17th May with voting closing on 10th March.
At John Lamb Hill Oldridge, we are very proud to announce our nominations in the following categories:
UHNW Private Client Services of the Year: John Lamb Hill Oldridge
Wealth Professional Award: Ken Maxwell
Our team has been very active throughout the first quarter of 2023 and has been working hard to maintain our usual level of excellence by delivering exceptional support, providing an industry voice in the press, and continuing to recruit talented staff.
Read on to learn about the 2023 Magic Circle Awards, some of our recent publications, and the latest broker to join our growing team.
The 2023 Magic Circle Awards sees our firm involved on multiple fronts
The Magic Circle Awards offer a platform to promote the excellent work of wealth advisers across various sectors, as well as the services they provide their HNW and UHNW clients.
The awards have been ongoing for 17 years and attract some of the industry's top firms and professionals.
The event is attended by more than 400 professionals from over 140 organisations including:
Leading law firms
Trust companies
Family offices
Tax advisers
Investment managers.
Online public voting counts for 10% of the vote and will be taken into consideration by the judges when they make their final decisions. We hope that we have your support, and vote, as we seek to add further awards success to our history of accolades.
To support John Lamb Hill Oldridge for UHNW Private Client Services of the Year please vote now.
To support Ken Maxwell for the Wealth Professional Award please vote now.
Voting closes on 10th March 2023.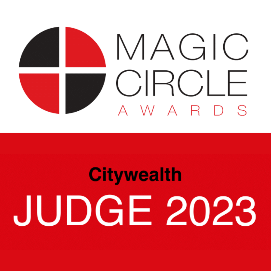 As part of our greater involvement in this year's ceremonies, our director, Paula Steele, was selected as a judge.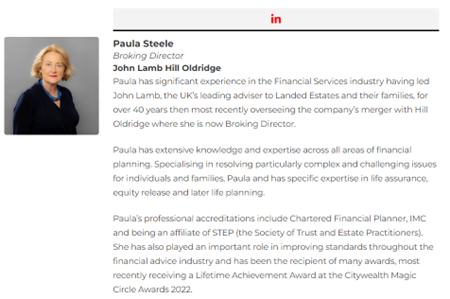 Source: Magic Circle Awards
It is welcome recognition of Paula's years of hard work, experience, and insights across the industry.
Further good news and recognition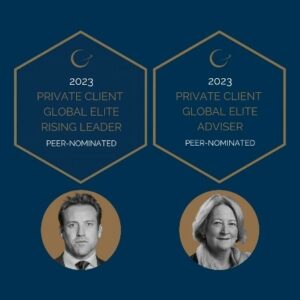 The 2023 Private Client Global Elite Directory was recently published and our directors, Ken Maxwell and Paula Steele, have once again been named with Ken recognised as a Rising Leader and Paula as Elite Adviser.
The Private Client Global Elite is a highly respected global directory of the world's top private client, trust, and estates litigation talent, as well as rising stars in the industry.
The directory is entirely chosen by peers within the industry.
We are also delighted to announce that our specialist broker, Holly Hill, has been shortlisted for the COVER magazine Women in Protection & Health Awards 2023.
This year, there were a staggering 50% more outstanding individuals and companies longlisted for the award, highlighting the strength of Holly's entry.
The awards celebrate the leading women within the life, protection, and health insurance industry, recognising those who champion diversity and inclusivity.
Holly recently took home bronze in the Financial Advisory Individual of the Year category at the 2022 Citywealth Future Leader Awards, which was held on 16 November 2022.
Join us in wishing Holly the best of luck with her most recent nomination.
Our talented team have kept up our active presence within industry publications
Last time, we covered how our team had maintained our firm's leading voice in the press by writing a diverse range of articles across 2022 including:
Ken's COVER magazine article about the obstacles that come with writing life insurance for high net worth (HNW) individuals
Holly's article in COVER magazine about the effects of divorce on insurance arrangements and how proper understanding of policies can benefit clients' emotional wellbeing
Jonathan Morris's Professional Adviser article about the importance of income protection policies, especially considering global events over the past few years.
Recently, our team has had further publications including:
Holly's article in The Month magazine on death and taxes which we've covered in our special article on our site
Our head of underwriting and claims, Darren Lee's, article in COVER magazine about facial recognition software, which we've explored in our latest newsletter
Jonathan's article in Polo and Lifestyle magazine on how you can make sure valuable assets remain in your family and not with HMRC.
Jacob Fay joins our team as a broker
At John Lamb Hill Oldridge we always have one eye on the future. Our latest recruit, Jacob Fay, brings a fresh influx of youth and hunger into our growing team.
Jacob graduated from Exeter University in August 2022 with a 2:1 in Human Geography, writing a dissertation on the portrayal of refugees in newspaper articles in the lead up to the Brexit referendum.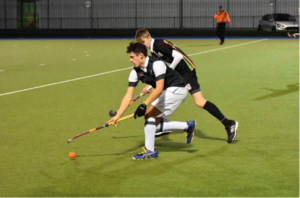 He is an active and sporty individual having captained Hampshire cricket to U17 level and the Exeter University's men's hockey side.
Jacob is a keen charity advocate and has made an effort to be involved in fundraising events and physical challenges over the years to help build awareness for causes, especially those of men's mental health.
We are excited to see Jacob grow within our business and help us continue to deliver a successful customer experience.
Other Insights
Slavica Smith
"It is important that advisers can approach the whole market" Hazardous pursuits encompass a broad range of high-intensity activities that often involve elements of speed, height, and exposure to challenging environments. Many of these pursuits [...]
Slavica Smith
Research suggests that confusion around life insurance is one of the reasons fewer millennials are buying policies compared to previous generations. Long-winded questionnaires and the possibility of medical screenings add to the complexity. It is [...]
Slavica Smith
At the end of their lives, your clients are likely to want to bestow a significant amount of their wealth and assets to their family. If they have accrued a sizeable estate, their beneficiaries might [...]